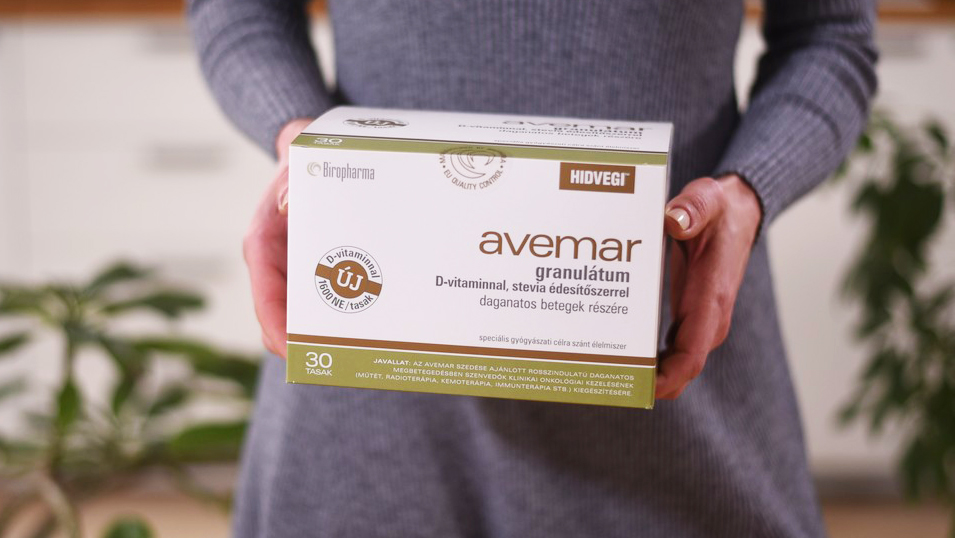 Avemar is a preparation containing fermented wheat germ extract for cancer patients to complement oncology treatments. Its daily consumption is recommended from the first moment of cancer diagnosis. We make it in the form of tablets and several types of drink powder. A Hungarian invention that has been available worldwide since 1998.

It can be purchased without a prescription in pharmacies, on our website and in our Budapest brand store.
Avemar is manufactured in Hungary under pharmaceutical factory conditions, in compliance with strict quality assurance protocols.

Its inventor is Dr. Máté Hidvégi, who created his revolutionary product in 1998 based on the research of Nobel laureate Albert Szent-Györgyi. Since then, Avemar has been continuously used in the complementary therapy of cancer patients in many countries around the world. Dr. Hidvégi was awarded the Presidential Gold Medal for his merits in cancer research.
Based on guidelines approved by the National Pharmaceutical and Food Health Institute, Avemar is recommended to supplement the clinical oncology treatment (surgery, radiotherapy, chemotherapy, immunotherapy, etc.) of patients with malignant neoplasms, as well as in cases of pathological thinness (cahexia) occurring during neoplastic disease.

The favorable properties of Avemar are due to its high spermidine content and unique composition.

In accordance with the provisions of the European Union, the results of about 150 Hungarian and international studies conducted over the past 25 years regarding the physiological effects of Avemar cannot be disclosed to those concerned.

These researches can only be accessed by health professionals, doctors and pharmacists at https://www.research.avemar.com/hu.

Daily consumption of Avemar for all types of malignant tumors, including colon and rectal cancer, breast cancer, prostate cancer, lung cancer, malignant pigmented birthmark (melanoma), head and neck cancers, oral cavity cancers, malignant tumors of the salivary glands, pancreatic cancer, kidney cancer, bladder cancer, non-Hodgkin lymphoma, ovarian cancer, multiple myeloma, leukemia, thyroid cancer, liver cancer (hepatocellular carcinoma), testicular cancer, soft tissue tumors, childhood solid tumors, central nervous system tumors are also recommended from the very first moment of diagnosis.

The active ingredient of Avemar preparations is Avemar Pulvis, which is made by biotechnological transformation of selected quality wheat germ. Wheat germ is a plant part with an extremely high spermidine content, rich in oils, the patented extract of which is prepared by fermentation, without the use of chemicals, under pharmaceutical factory conditions. Avemar is made with unique ingredients and unique production technology and has been registered, so it cannot be replaced by other wheat germ-based preparations.
Avemar is a chemically well-defined substance, it has been available in many countries for many years and has been used without reports of significant side effects. The basis of Avemar's safety is the selected quality wheat germ used in its production, which has been a part of human nutrition for thousands of years, and there is no indication that it is harmful to health.
The safety of the Avemar pulvis preparation, which contains maltodextrin and colloidal silicon dioxide as excipients, was analyzed with acute, subacute and chronic toxicity studies, mutagenicity, genotoxicity and carcinogenicity studies, as well as with the participation of cancer patients evaluating the hematological effects.

The results of the tests showed that the preparation did not cause any side effects even in the case of amounts far exceeding the intended use (up to 50 times the dose). To measure the effect of long-term use of Avemar on the hematological status of cancer patients, the following parameters were examined: white blood cell count, red blood cell count, hemoglobin level, hematocrit, platelet count, blood sedimentation rate, lymphocyte count, neutrophil granulocyte count, monocyte count, eosinophil granulocyte count and prothrombin level. All values remained within the normal range during the first, third and fifth year of Avemar treatment.

Data from clinical trials involving patients suffering from an advanced stage of the disease, i.e. weakened and less resistant, also support the safety of long-term use of the preparation.
Avemar is a Hungarian invention and domestic product. In 1998, it became one of the preparations used in the complementary therapy of cancer patients. Apart from Hungary, it is currently used in the United States, Australia, South Korea, Vietnam, Canada, the United Kingdom and the countries of the European Union, among others.

Hungary's reputation is enhanced by the fact that it became an internationally recognized invention thanks to a Hungarian research group, domestic specialists developed the drug production technology of the product, the raw material of which is high-quality Hungarian wheat germ.

In 2006, Avemar - which we marketed in the USA at the time under the name AVÉ - won the main prize for the best new nutritional product of the year, the NutrAward, the only Oscar award in the field. The award was presented at the Natural Products Expo West / Supply Expo in Anaheim, California, USA. The award for the best new product, the NutrAward, was selected by the jury from four hundred innovative products, which were voted for by 44,000 professional visitors during the exhibition. It was the first time in the history of the NutrAward that the prize was awarded to a European innovation.

This world award-winning product is Avemar granulate currently available in Hungary.
11 arguments in favor of AVEMAR:
 it is recommended by the National Pharmaceutical Institute as a supplement to oncology treatments
  the world's FIRST fermented wheat germ extract, ORIGINAL AVEMAR
available in all Hungarian pharmacies
can be settled on a health fund account (in Hungary)
  based on the idea of Nobel laureate Albert Szent-Györgyi
used in many countries of the world
unchanged, reliable quality for 25 years
it is made in our pharmaceutical factory in Hungary
for its preparation, we use first-class, GMO-free, wheat germ grown in Hungary
spermidine content is extremely high
it contains a high concentration of benzoquinone molecules
Avemar is a preparation containing fermented wheat germ extract to supplement oncology treatments.
Its daily consumption is recommended from the first moment of a positive cancer diagnosis.
It can be taken in the form of film-coated tablets and several types of drink powder.
In Hungary you can purchase Avemar with your Health Insurance card 
In most Hungarian pharmacies you can pay for all Avemar products with your Health Insurance card.
Please contact your insurance company and find out more details on how to get reimbursed when purchasing Avemar products.
---
COMPARISON OF PRODUCTS
| | TABLET | DRINK POWDER GRANULATE | DRINK POWDER GRANULATE WITH VITAMIN-D | LYOPHILIZATE |
| --- | --- | --- | --- | --- |
| 5.5 g of fermented wheat germ extract | | | | |
| 1600 NE Vitamin-D | | | | |
| Sweetener | | Fructose | Stevia | Stevia |
| Natural orange flavor | | | | |
| Daily dose between 50 - 90 kg* | 2x5 tablets | 1 pouch | 1 pouch | 1 pouch |
| 1 box corresponds to 1 month's dose | | | | |
| Webshop and store price for 1 box | 29 900 Ft | 29 900 Ft | 29 900 Ft | 39 900 Ft |
|   | | | | |